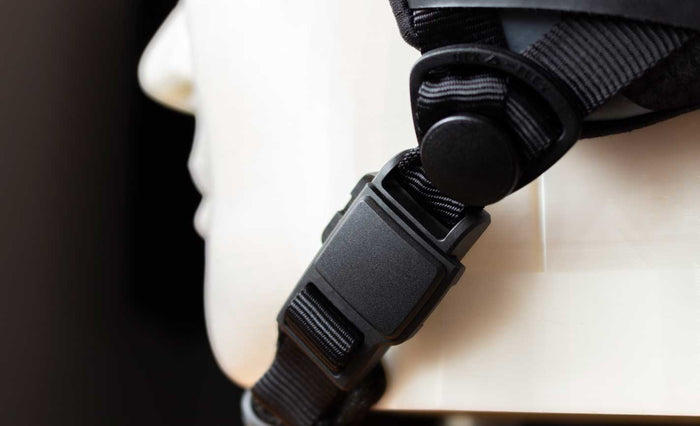 Helmets are essential devices that help us accomplish various things under varying circumstances. However, they must provide ample protection, comfort, durability, and ease of use for them to deliver their intended purpose. Regardless of whether you need a helmet to stay safe at work or to enjoy leisurely rides on the snowy slopes, there is one particular feature that ensures that your helmet is tightly secured to your head – a premium quality helmet buckle that can be fastened or released without too much hassle.
If you've been looking for a helmet buckle that is strong, durable, and easy to fasten, FIDLOCK has got you covered. Their FIDLOCK helmet buckles fuse magnetic and mechanical fastening concepts to deliver cutting-edge and user-friendly fasteners that can open and close in seconds.
Cutting-edge Fasteners for All Your Helmets
When wearing or removing a helmet, it is impossible to see what's happening below your chin during the buckle's fastening or release. Fidlock's revolutionary design is specifically suited to address just this. Fidlock's use of magnets to guide the components into the right position and mechanically lock them allows easy use even without any visibility. That same technology allows Fidlock's fasteners to be used on or near the skin without fear of pinching, even when you are in a hurry.
Since helmets are devices that guarantee protection, their components should be accorded unmatched attention to detail during development. The helmet buckles from FIDLOCK are carefully engineered in Germany to deliver the absolute best experience and offer unparalleled safety to the user. Fidlock is the leader in fastener innovation and excellent user experiences, allowing any brand to instantly elevate their products.
Differences Between Fidlock's SNAP Helmet Buckles & SNAP Buckles
Although FIDLOCK's Snap helmet buckles and Snap buckles may look similar, they have some significant differences and are intended for different products. The Fidlock SNAP buckles are conventional fasteners for diverse applications such as bags, chest straps, apparel, and accessories. In comparison, the SNAP Helmet buckles are designed explicitly for helmets, from sports to safety and everywhere in between. But what makes them so different? It's the materials. Fidlock uses Nylon for the SNAP buckle but uses high-performance materials like Durethan or Grivory in the SNAP Helmet buckles for increased safety and durability.
Range of Fidlock Helmet Buckles and Their Applications
Want to see an overview of Fidlock's full range of Helmet Buckles, including possible safety standards, fittings, and webbing options? Click the button below!
Fidlock offers an extensive portfolio of fasteners that can be used on a wide range of helmets. However, they understand that helmets for different applications come with distinct requirements regarding ergonomics, safety, design, and function. As such, they deliver a vast array of fasteners to meet the unique needs of any helmet.
Apart from their signature SNAP Helmet buckles, they offer several variants from their HOOK product family. Fidlock has a Helmet buckle that can be used in various fields ranging from sports to safety and more, including:
– Outdoor activities such as watersports, cycling, climbing, motorcycling, and equestrian activities
– Wintersports such as snowboarding, skiing, snowmobile riding, and ice hockey
– Professional Safety such as firefighters, construction, and manufacturing employees where head protection is essential.
Fidlock can also customize their helmet buckles with colors and individual branding to resonate with their intended use or end-user.
Safety Standards, Testing & Suitable Applications
| | |
| --- | --- |
| Europe – EN 1078: 60cm + 4kg | 65kg |
| Australia + New Zealand– ASNZS 2063: 25cm + 10kg / 30h in water | 70kg |
| SNAP buckle only | 55kg |
*PLEASE NOTE: The complete helmet is required to meet safety standards and must be tested by the manufacturer accordingly. Fidlock can only give estimate on which fasteners could meet the standards for your application. That also means that the above standards aren't the only ones Fidlock's magnetic buckles can meet, such as DIN EN 12492 for climbing.