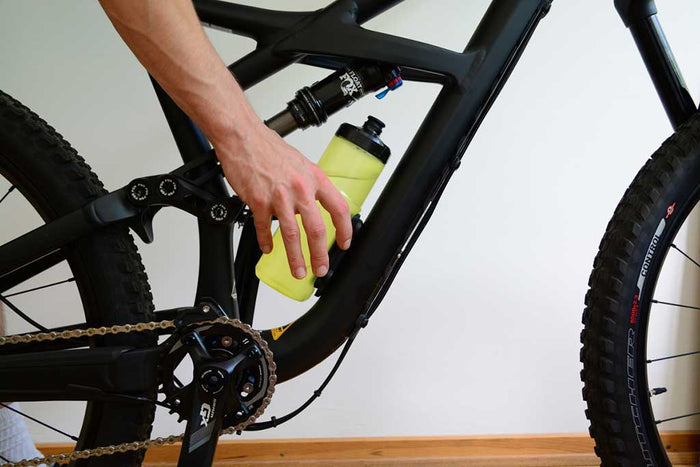 Fidlock Bottle Twist mounted on bicycle
Finally an alternative to bottle cages that actually works! Fidlock's first ever retail ready product, the Fidlock Bottle Twist is a revolution in cageless water bottle design.
Cageless
While there are other cageless water bottle systems on the market they all have their issues. Many tend to not keep the bottle secure, falling off when half-full or going on a rough trail. Not the Fidlock Bottle Twist. With a sleek minimalist design and super-secure fastening system the Fidlock Bottle Twist will stay secure no matter how full the bottle or rough the ride.
Magnetic
Fidlock's groundbreaking magnetic technology and superior design work together to deliver cyclists the easiest to use and most secure completely cageless water bottle solution.  Fidlock's magnetic closure system uses magnets to guide the bottle into its locking mechanism to ensure the Bottle Twist is securely fastened no matter the orientation. Let the magnets do the work while you focus on the trail ahead knowing your bottle is secure. Easy to attach and easy to remove the Fidlock Bottle Twist is a joy to use.
Minimalist Design
German design and sleek styling really make the Fidlock Bottle Twist stand out. Especially designed for small tight frames Fidlock Bottle Twist's small footprint also allows it to be installed on many parts of the frame not accessible to traditional bottle cages. These means you have more options to mount your bottle in the most convenient spot for you, not just where it fits. The Fidlock Bottle Twist's sleek mount also means it's almost invisible when the bottle is not attached.
Fidlock Bottle Twist - Retail Packaging
Retail Ready
The Fidlock Bottle Twist is the first retail ready Fidlock product. Available in either retail ready header card packaging or polybagged for bulk orders. The Fidlock Bottle Twist is easy to install, easy to use, and easy to love.
Check out the review of the Fidlock Bottle Twist over at Enduro Mountain Bike Magazine: http://enduro-mtb.com/en/fidlock-bottle-twist-review-magnetic-water-bottle/
Stock is available for same day shipment in our NJ warehouse, contact your rep today for more information.